Hi Bob and All,
Is there an available to public website of a British Order (preferably military) that discusses their sash, amongst other decoration matters?
If there is, I've never found it. I think it comes down to logistics and cost. For an example, the Order of the Garter. There are fewer than 200 members, if all the members, ladies, honouraries and honourary ladies are included. Does the order produce a manual - no. When a new member is to be inducted into the Order, someone (usually the secretary (in this case Garter, King of Arms)) goes along and tells the new member how to wear the robes and other parts of the uniform.
The information that you are after is probably not yet on-line. So you would be advised to come at it from a different angle and build up your knowledge bit at a time. I am attaching a link to a 1921 book of "Dress and Insignia worn at Court" - it is downloadable as a PDF.
http://www.archive.org/stream/dressinsigniawor00greauoft
The original book is 88 years old and much is now out of date, but a lot has not changed. We have to read between the lines to glean the information that we need
As far as this thread is concerned, I am attaching a picture from the book which shows how the sash was worn.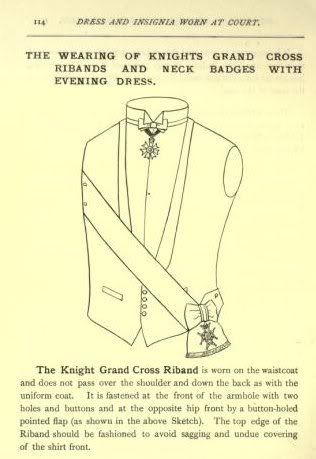 This is the text as it might not be clear from the picture: "
The Knight Grand Cross Riband
is worn on the waistcoat and does not pass over the shoulder and down the back as with the uniform coat. It is fastened at the front of the armhole with two holes and buttons and at the opposite hip front by a button-holed pointed flap (as shown in the above sketch). The top edge of the Riband should be fashioned to avoid sagging and undue covering of the shirt front." As an aside, I own a set of three antique gold waistcoat studs and the waistcoat to use them on, but sadly no sash as yet!
When you checked on Austria's (Order of) Militar Maria-Theresien-Orden, did you use a pulp printed book or web resources?
I did a search using Google images - Austria + Order. Kept going till I found a Red/White sash and then followed the links (what they are now, I have no idea). I also find that Wikipedia is very good - yes it can be inaccurate and wrong and even biased, but I would give it a rating of 95% accuracy. Just don't bet your life on what it says!
I have downloaded many PDFs of an heraldic/chivalric nature. I will start a new thread of all the links I can find and will look at some way of uploading the PDFs that I have so that they can be accessed by this forum. If any member knows of an
EASY
way of doing this, I would like to hear from you.
Regards for now
Chas